Protect your home and family from allergens, viruses and other air pollutants.
Get the latest indoor air quality systems.
It's a fact. The air inside our homes can be up to 100 times more polluted than the air outside! Dust mites, molds, fungi, spores, pollen, bacteria, viruses, fragments of plant materials, and dander are all suspended in the air we breathe. We've got indoor air quality products to help prevent this potentially unhealthy living situation that use the latest technology from leading brands, including Trane®, to help you breathe cleaner, healthier in your home.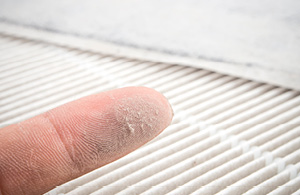 Alone or together, these indoor air quality solutions will help your family breathe easier and live healthier all year round:
Ultraviolet (UV) germicidal light filter systems – Utilizing the latest technology by emitting intense light that reacts with harmful contaminants in a ducted heating and cooling system, these systems help minimize the concentrations of potentially harmful microorganisms and pollutants from indoor air.
Eliminates up to 99.9% of mold spores in a ducted system.
Kills up to 87% of certain airborne bacteria passing by the UV light system.
Helps maintain system efficiency and airflow, which saves money by limiting the amount of times an HVAC coil should be cleaned.
Today's technology optimizes efficiency of lamp run time and LED lets you know when lamp replacement is needed.
Sealed unit design and multiple interlocks prevent accidental contact with UV rays.
Completely silent operation.
Trane® CleanEffects™ air cleaner – Setting the standard in air quality this system uses revolutionary technology that supplies your home with a cleaner, healthier environment.
Removes up to 99.98% of airborne particles that pass through the filter - including those as small as .1 micron.
8 times more effective than even the best HEPA room filters and up to 100 times more effective than a standard 1-inch filter.
Central whole house humidifiers – Viruses that cause colds and flu thrive in low humidity. Dry air can also cause nose, throat, and other physical aggravations, increase the likelihood of getting other upper respiratory ailments. When paired with Trane® CleanEffects™ technology, a Trane® Envirowise™ humidifier:
Keeps proper humidity levels to help relieve some allergy symptoms, along with complications from asthma and other respiratory ailments.
Alleviates dryness in a home and provides you with the most advanced whole-house air filtration system.
Can adjust from summer to winter to provide the right amount of moisture to the air in your home.
Our indoor air quality experts can help advise which systems work best for you and your home.
Get the facts about indoor air quality and why it's important for everyone homeowner
Breathe better, cleaner, healthier at home.
Contact us today to learn more about our indoor air quality products at 855.281.9354 or click here now.