Home heating oil services: Pricing plans, equipment, special offers, SmartPay budget plan.
Full service heating oil provider.
Oil is our business! We've got many years of experience, have never run out of oil and always deliver. Being a full service heating oil provider means that whatever the weather, whatever the time, even in the worst winter storms, we will deliver your oil. Heating oil deliveries are automatic and we never run out of oil. Our customer service and support operates 24/7, 365 days a year.
"Wallace Energy is fantastic! I'm a first timer with oil heat and was getting nervous as the guage got closer to empty. I called over 4 oil companies and Wallace not only had the best prices out of all, but had a technician come out that day. Whereas all the other companies couldn't get anyone out for days. They were so courteous and accommodating. One happy customer here!"
- Dawn W.
Your local heating oil company and partner.
Our customer service professionals, drivers and technicians are all local. We live and work where you do, so we understand, support and service your heating oil and other home comfort needs better than any other oil company, whenever you need us, 24/7, all year.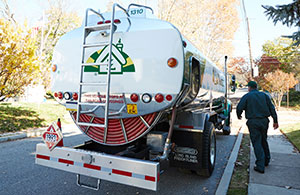 Heating oil pricing plans.
Our heating oil pricing plans are all designed with you in mind, to help you manage your heating costs all year, and there's no enrollment or sign-up fees! Heating oil pricing plans include: Variable and Ceiling Plans.
Manage your heating costs with our heating oil pricing plans
"I've been using Wallace Oil for my residential oil delivery needs since 2012. I also sign up for their annual service plan. The oil is delivered on schedule. The driver is courteous and professional. Some harsh winters he climbs over mountains of snow to reach the side of my house. The pricing is always competitive. As for the annual service plan I would never go without it. They include a thorough seasonal maintenance tune up. But the best part is you have peace of mind. The contract includes emergency service and labor and most parts. I have saved hundreds of dollars over the last 5 years compared to "one offs" with local independent HVAC service companies. The entire company culture is customer satisfaction comes first."
- Alexa R.
SmartPay plan.
As part of our continuing effort to provide the best customer service in the industry we can help you avoid large, unexpected payments in the winter months, budget smartly and manage your oil costs throughout the year with our SmartPay plan. SmartPay is our no-fee payment plan that breaks down the cost of your oil and service plans into equal monthly installments. After a quick analysis of your annual energy costs, SmartPay determines a monthly payment for your heating oil bills.
Spread out your heating oil payments with our SmartPay plan
Heating oil equipment.
By installing a new home heating system you'll improve your home's value, enjoy fast installation and professional training on your new heating system, great financing options and 24/7 customer service.
Start saving today by installing a new home heating system
Take advantage of special offers on heating systems
Compare us to other heating oil companies
Automatic heating oil delivery
Flexible pricing and payment plans
24/7 service for any issue
More technicians on staff to service customers at any time
We never run out of oil and always deliver
Easy to schedule tune-ups with no restrictions
Join our family today!
Other heating oil resources