Don't let your power go out!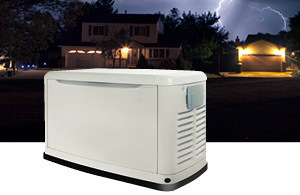 When a storm knocks out your power, it's too late to start thinking about a backup generator. Prepare your family for any storm or power outage now. Trust Wallace for all the generator systems and services you need.
Having power is vital to provide home comfort essentials like heating, lighting, cooking and more. In recent years, power outages caused by extreme cold weather, winter storms, major hurricanes, superstorms, and Nor'Easters have proven that every home should have a generator to ensure that you're not left powerless for days, or weeks, in extreme weather!
Don't wait until the next storm leaves you powerless, we have everything you need to make sure your life continues as normal in a power outage, with a range of whole house generators and services.
Expert guidance and advice will ensure that you choose the best generator for your family, your budget, and your home.
Propane and gas powered generators – Whole house options with automatic transfer switches.
Attractive financing options for qualified customers.
Professional installation and service 24/7/365 whatever the weather!
Make sure you and your family are safe and prepared when the next storm or power outage hits with a backup power generator!
Contact us today to learn more about our generator options at 866.899.1645!